Ducati Panigale V4 S
The Science of Speed
The 2020 version of the Panigale V4 boosts performance even further and takes track riding to the next level for amateurs and pros alike. A series of refinements make for an easier, more user-friendly, less fatiguing ride while simultaneously making the bike faster not just on individual laps but over entire timed sessions. 
The Aero Pack provides enhanced airflow protection and improves overall vehicle stability, enhancing confidence. The Front Frame, instead, modifies stiffness to give better front-end 'feel' at extreme lean angles. Ducati and Ducati Corse engineers have crunched the feedback/data numbers from customers all over the world and Superbike World Championship events. Their analysis has led to a series of aerodynamic, chassis, electronic control and Ride by Wire mapping changes: designed to increase stability and turn-in speed, these changes make it easier to close corners and ensure riders enjoy more confident throttle control.
The S version comes with Öhlins event-based electronic control; this uses the second-generation Öhlins Smart EC (Electronic Control) system that, exploits the full potential of the IMU 6D.
Hinta: 39 800 €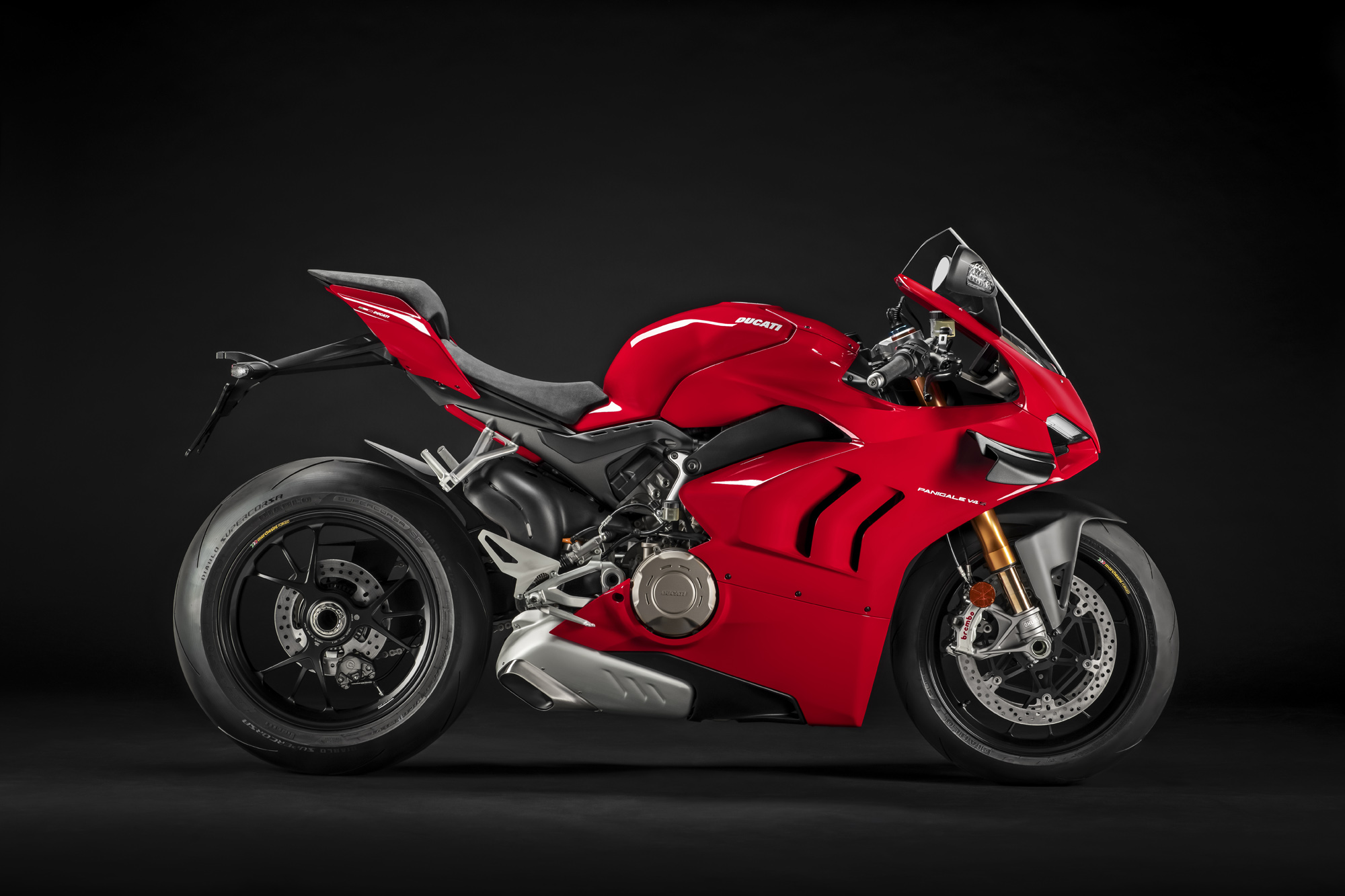 | | |
| --- | --- |
| Moottorin tilavuus | 1,103 cc |
| Teho | 157.5 kW (214 hv) @ 13,000 rpm |
| Vääntö | 124.0 Nm (91.5 lb-ft) @ 10,000 rpm |
| Kuivapaino | 175 kg |
| Turvallisuus | Riding Modes, Power Modes, Bosch ABS EVO, Ducati Traction Control (DTC) EVO, Ducati Wheelie Control (DWC) EVO, Ducati Slide Control (DSC), Engine Brake Control (EBC) EVO, Auto tyre calibration |
| Huolto | 12,000 km / 12 kk |
| Valmistajan sivut | ducati.fi |

Ducati punainen
Kokonaishinta: 39 800 € 
Enemmän kilometrejä, vähemmän huoltoja
Ajonautinto, luotettavuus ja huoltokulujen minimointi ovat Ducatin insinöörityön perustana. Huoltoväli on laajennettu 24 000 kilometriin, ja joissain malleissa laajempi Desmo-huolto ei ole tarpeen ennen 30 000 kilometriä. Jopa yksinkertaisimmat huollot, kuten öljyhuolto on laajennettu 12 000 kilometriin tai 15 000 kilometriin. Nämä puhuvat puolestaan korkean suorituskyvyn moottoreista.
Ducati investoi jatkuvasti huoltohenkilökunnan tekniseen koulutukseen. Vain virallisen Ducati Service-verkoston kautta löydät varmasti vaadittavat taidot ja työkalut oleellisiin huoltotoimenpiteisiin, jotka varmistavat että Ducatisi tuottaa parasta suorituskykyään jatkossakin.
Ducati viralliset huoltopisteet