Ducati Streetfighter V4
The fight formula
0The new Streetfighter V4 is the result of an explosive formula; the Streetfighter V4, without fairings, with a high handlebar, the 208 HP of the Desmosedici Stradale, and the addition of wings in a biplane configuration to tame the power without losing agility.
Introducing the new Ducati super naked: high-adrenaline and excessive, with no rivals in the segment, it is able to boost the "ego" of its rider, who will feel like a star every time they hit the road. The spirit of the Streetfighter V4 is represented in the aggressive design of the full LED headlight and the beauty of the mechanics, as much as possible of which remain visible.
Hinta: 27 700 €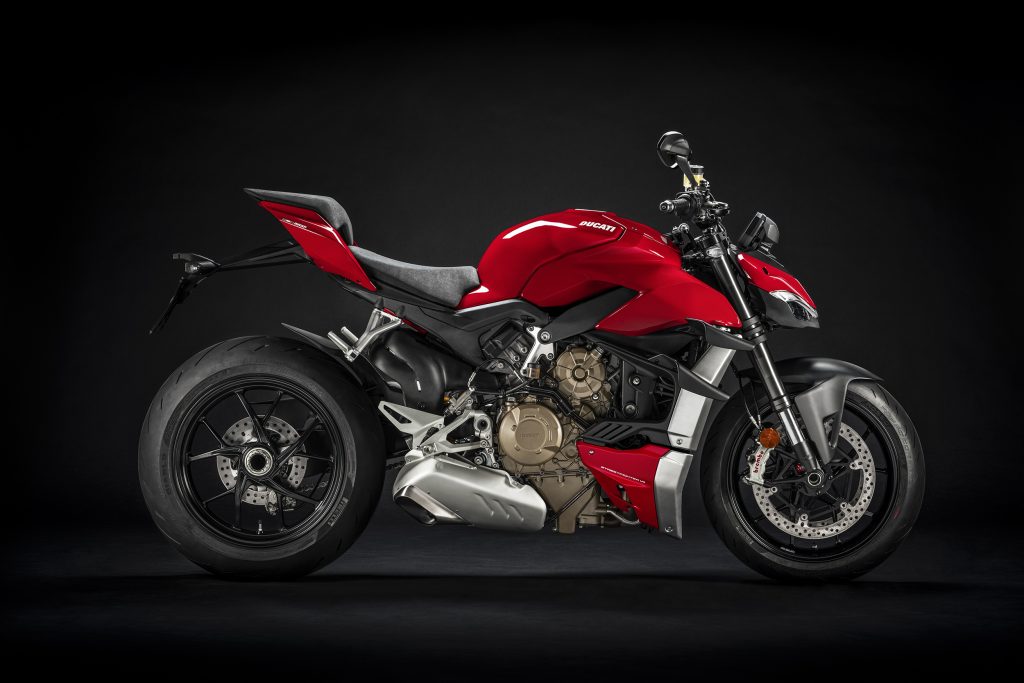 | | |
| --- | --- |
| Moottorin tilavuus | 1103 cm3 |
| Teho | 153 kW 208 hv @ 12750 rpm |
| Vääntö | 123 Nm @ 11500 rpm |
| Kuivapaino | 180 kg |
| Ks. lisätietoja | ducati.com |

Ducati punainen
Kokonaishinta: 27 000€  
Enemmän kilometrejä, vähemmän huoltoja
Ajonautinto, luotettavuus ja huoltokulujen minimointi ovat Ducatin insinöörityön perustana. Huoltoväli on laajennettu 24 000 kilometriin, ja joissain malleissa laajempi Desmo-huolto ei ole tarpeen ennen 30 000 kilometriä. Jopa yksinkertaisimmat huollot, kuten öljyhuolto on laajennettu 12 000 kilometriin tai 15 000 kilometriin. Nämä puhuvat puolestaan korkean suorituskyvyn moottoreista.
Ducati investoi jatkuvasti huoltohenkilökunnan tekniseen koulutukseen. Vain virallisen Ducati Service-verkoston kautta löydät varmasti vaadittavat taidot ja työkalut oleellisiin huoltotoimenpiteisiin, jotka varmistavat että Ducatisi tuottaa parasta suorituskykyään jatkossakin.