Ducati Multistrada 950 S
My First. My Last. My everything
The new Multistrada 950 combines comfort, style and superior performance with an incredible riding ease: this is the ideal bike for those who dream of riding a real Ducati.
With its Testastretta 937 cc and 19″ front wheel, the new Multistrada 950 is perfect for riding on all terrain, even for urban daily commuting, also thanks to its low consumption and extremely low ownership costs.
Hinnat alkaen: 22 400 €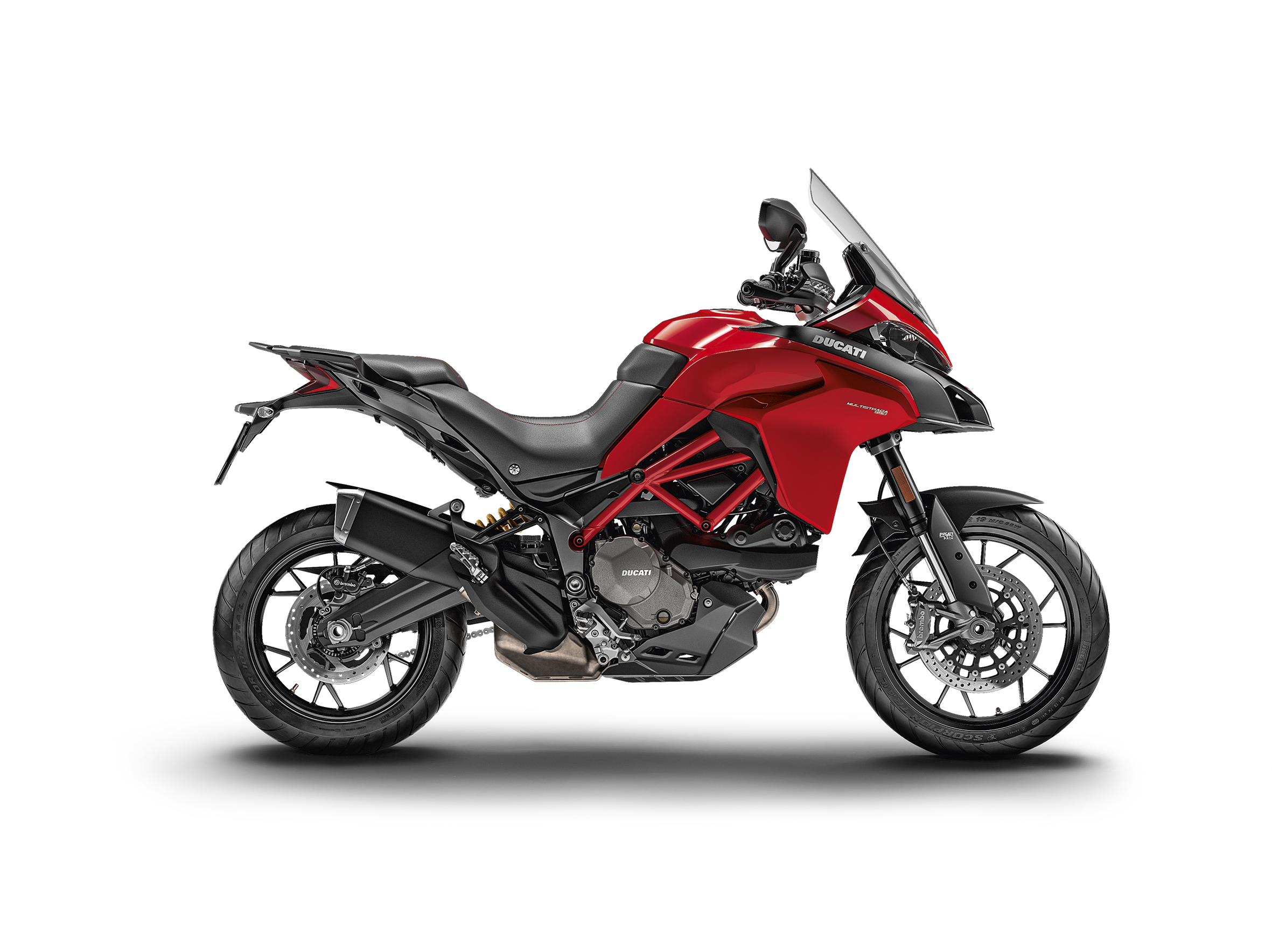 Moottorin tilavuus
937 cm3
Teho
83 kW 113 hv @ 9 000 rpm
Vääntö
96 Nm @ 7 750 rpm
Kuivapaino

207 kg

Istuimen korkeus

840 mm

Turvallisuus

Bosch Cornering ABS, Ducati Traction Control (DTC). Riding Modes, Power Modes, Ducati Cornering Lights (DCL), Vehicle Hold Control (VHC)

Vakiovarusteet

Huoltoväli

Desmo-huolto

Ducati Shyhook Suspension Evo (DSS), Ducati Quick Shift up/down (DQS), Cruise control, Hands-Free, Backlit handlebar switches, 5″ TFT colour display, Full LED headlight, Self cancelling turn indicators

15 000 km / 12 kuukautta

30 000 km

Valmistajan sivut
ducati.com

Ducati punainen
Kokonaishinta: 22 400 €
Ducati punainen + Touring Pack 23 300 €
Ducati punainen + Spoked Wheels 23 400 €
Glossy Grey
Kokonaishinta: 22 600 €
Glossy Grey + Touring Pack 23 600 €
Glossy Grey + Spoked Wheels 23 600 €
Enemmän kilometrejä, vähemmän huoltoja
Ajonautinto, luotettavuus ja huoltokulujen minimointi ovat Ducatin insinöörityön perustana. Huoltoväli on laajennettu 24 000 kilometriin, ja joissain malleissa laajempi Desmo-huolto ei ole tarpeen ennen 30 000 kilometriä. Jopa yksinkertaisimmat huollot, kuten öljyhuolto on laajennettu 12 000 kilometriin tai 15 000 kilometriin. Nämä puhuvat puolestaan korkean suorituskyvyn moottoreista.
Ducati investoi jatkuvasti huoltohenkilökunnan tekniseen koulutukseen. Vain virallisen Ducati Service-verkoston kautta löydät varmasti vaadittavat taidot ja työkalut oleellisiin huoltotoimenpiteisiin, jotka varmistavat että Ducatisi tuottaa parasta suorituskykyään jatkossakin.